By Northern Nevada Business Weekly.
American Battery Technology Company announced a new milestone this month for the lithium-ion battery recycling plant it's erecting in Fernley.
The Reno-based company's building permit recently was approved by the city of Fernley, according to a Nov. 11 press release, paving the way for full-scale construction on the 100,000-square-foot project planned on a 12.5-acre plot of land adjacent to American Ready Mix off Logan Lane.
The project, first announced in summer 2020, saw its conditional use permit receive unanimous approval from the Fernley City Council this June after an OK from the city's planning commission.
Crews with Carson City-based Miles Construction began clearing and grubbing work this summer before moving onto grading and excavation this fall.
"We are excited to continue to accelerate progress toward the construction and commissioning of our first pre-commercial scale battery recycling facility," ABTC CEO and CTO Ryan Melsert said in a statement. "As we finish above- and below-ground utility and site work, we are now in a position to continue straight through with the full construction of all of the onsite buildings and facilities.
"Beyond the battery recycling system itself, this facility will include several scales of analytical and process development laboratories, in addition to pilot development facilities, to continue to prove out our next generation recycling technologies and to facilitate our current corporate and government supported grant projects."
The facility will consist of three functional building areas totaling 100,000 square feet: a battery recycling production building, an office building with laboratories, and a finished goods warehouse.
"The onsite analytical and process laboratories, along with the pilot bays for validating next-generation technologies, will become ABTC's global development center, providing the infrastructure and experimental tools to support current and future operations of our battery recycling and primary battery metal extraction technologies," per the Nov. 11 release.
According to past NNBW reports, the pilot plant would be scaled to process 20,000 metric tons of lithium-ion batteries per year, before scaling up to handling 100,000 metric tons annually.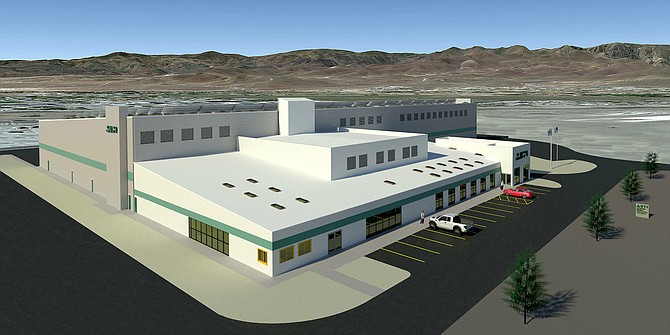 ABTC plans to create a "circular economy for battery metals" using its clean technology platform, Menka Sethi, former chief operating officer at ABTC, told the NNBW in April.
"In other words," she said in the April 12 NNBW story, "take a battery, dismantle it, pull out the metals, purify them, and put them right back into the industry to cathode manufacturers and people who make the batteries, so they can be used again for a cellphone or an EV."
Of note, Sethi is no longer with ABTC as of May 2021, a company spokesperson confirmed on Nov. 23.
ABTC anticipates helping fund the project with a conventional 36-month construction financing of roughly $5.5 million, according to past reports.
Meanwhile, a Nov. 15 story in Recycling Today values the entire project at roughly $30 million.
According to past NNBW reports, ABTC estimates direct and indirect local and state economic impact will be roughly $350 million over the coming decade.
In addition to short-term construction jobs, the project would create about 50 new jobs within its first three years, with positions ranging from equipment operators to R&D chemists to company executives. The average wage will be around $45 an hour.
"While the domestic manufacturing capacities of end-use-products, like electric vehicles, and of lithium-ion battery cells have grown rapidly in the U.S. in recent years, unfortunately the upstream domestic production capacities of the battery metals that supply these operations have not kept pace," Melsert said in a Nov. 11 statement. "(ABTC) is addressing this challenge by developing technologies and commercializing systems for the recycling of lithium-ion batteries and the recovery of constituent battery metals as well as for the production of battery metals directly from primary mineral resources in the Western U.S. to create a closed-loop circular economy for the domestic U.S. battery manufacturing supply chain."